Last May, 2017, an article in Alaska Sporting Journal magazine came out on our Alaska King Salmon Adventures camp. It was written by Scott Haugen, who has been coming to our camp since 2006, and will be back with us again this year. Here's the article he wrote: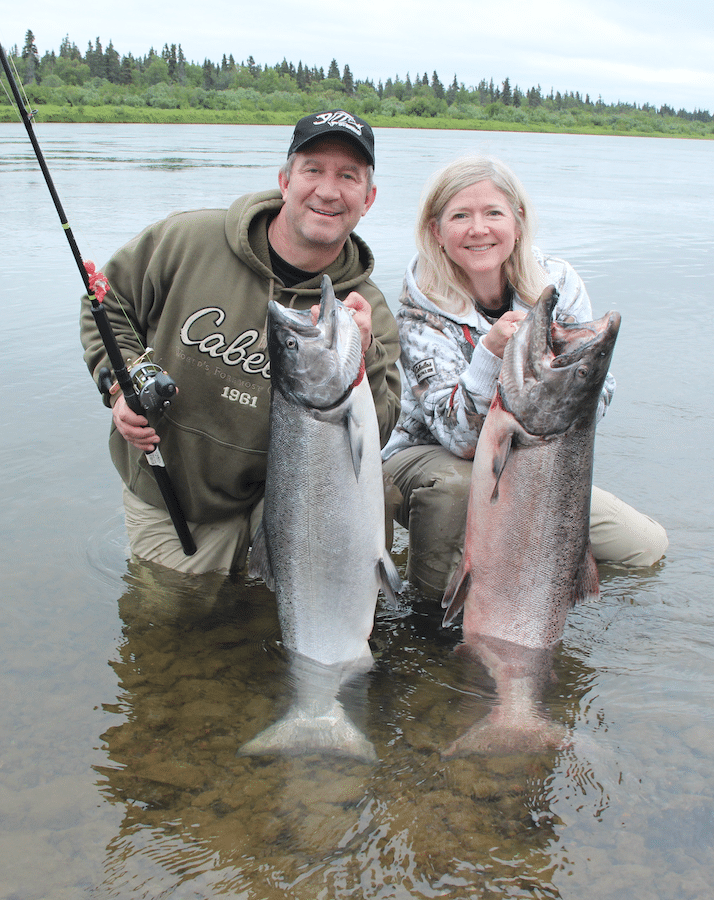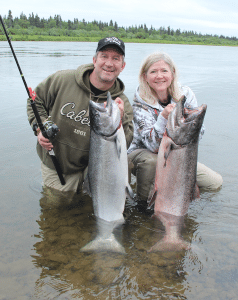 "That's it, I'm ready to go back to camp," my wife, Tiffany, let it be known after releasing yet another king salmon.
Holding up the clicker to my face, guide Austin Moser, smiled. No words were necessary. The salmon Tiffany just released was the 117th of the day for the boat, and there were only the three of us. It was just after 4:00 p.m., and we'd even taken an hour lunch break.
It was mid June and we were fishing the famed Nushagak River with Alaska King Salmon Adventures (www.alasakakingsalmon.com). It's the upper-most camp on this stretch of river, and one of the nicest tent camps I've seen in anywhere in Alaska. I've been fishing with this camp for over a decade, and there's a reason I keep going back. Actually there are several reasons, but this time, for the first time, my wife, Tiffany, joined me.
While we'd lived in and taught school for years on the North Slope, this was the first time Tiffany had been to the Nushagak, a place that's far different from anything the Arctic has to offer. Trees, lush, tall grass, and salmon runs numbering into the hundreds of thousands, this was a great place for us to spend some time together.
"The Nushagak not only receives the state's biggest run of king salmon, but the largest run of king salmon in the world," noted Scott Weedman, one of the co-owners of this camp. "That storm we had two days ago, that brought in thousands of salmon, that's why you guys caught so many today," he smiled as we enjoyed a delicious lasagna dinner made by the camp's longtime chef.
The day of the storm, over 18,000 kings pushed past the count station. The next day, over 20,000 swam their way upstream. I've seen it before, where a storm with high winds and lots of rain creates the perfect conditions for large numbers of salmon to move upriver, and when you hit it right, it's salmon fishing like you've never seen.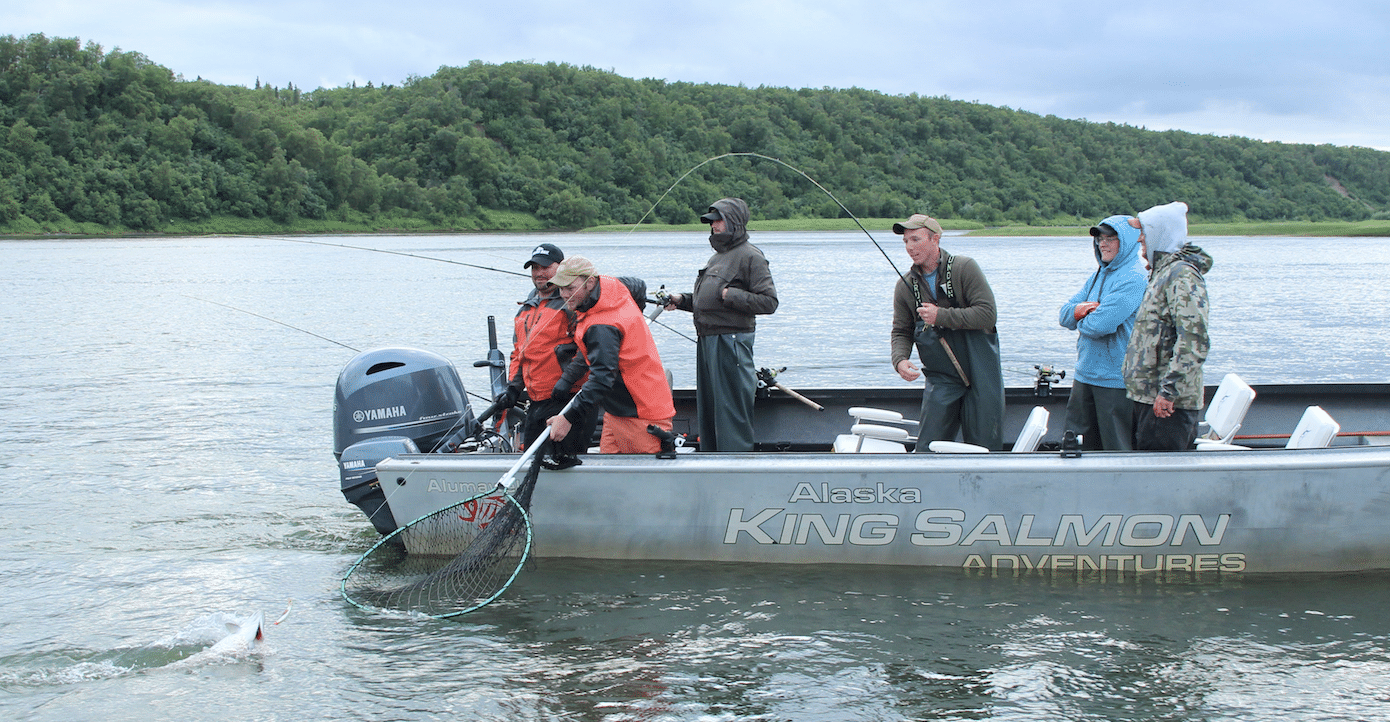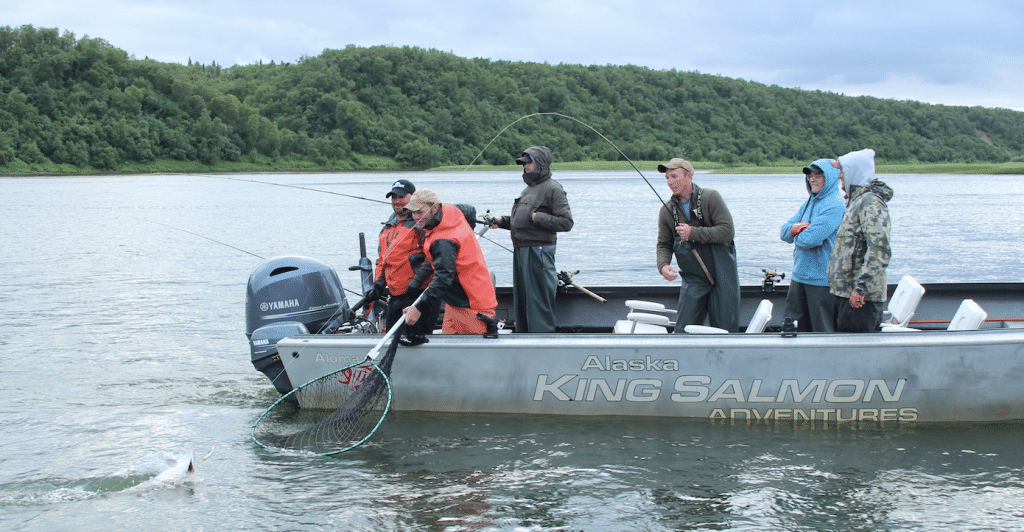 The fun thing about it, we didn't just backtroll plugs. We also dragged freshly cured eggs, where hits were so voracious, they about ripped the rods from our hands. We also sidedrifted bait, bobber dogged bait, casted spinners and drift fished. No matter how we fished, we caught salmon.
Not only did we catch king salmon, but fresh arriving chums, many in excess of 15 pounds, were also caught. Early run chums are excellent eating, and their fat content this time of year makes them great for smoking.
When we tired of catching salmon, we headed upriver into secluded sloughs. Here we tossed topwater presentations for feisty pike. At the bottom of some of the deeper holes, we caught and released rainbow trout measured in pounds, not inches, and on the shores of camp, we experienced some of my favorite fishing in Alaska, Arctic grayling.
Tiffany hadn't fished for grayling since we lived in Anaktuvuk Pass, in the late '90's, and on her first cast, she tied into a beautiful fish. Plucking the little red and white Rooster Tail from the grayling's lip, she casted it into the flats again. She barely started her retrieve when the ultralight, 6-foot, rod doubled over. Soon a 12-pound king was making a run for it, cartwheeling through the air as it headed to deeper water. Eventually she landed that salmon, then caught another couple grayling. Then it was time for happy hour around the campfire.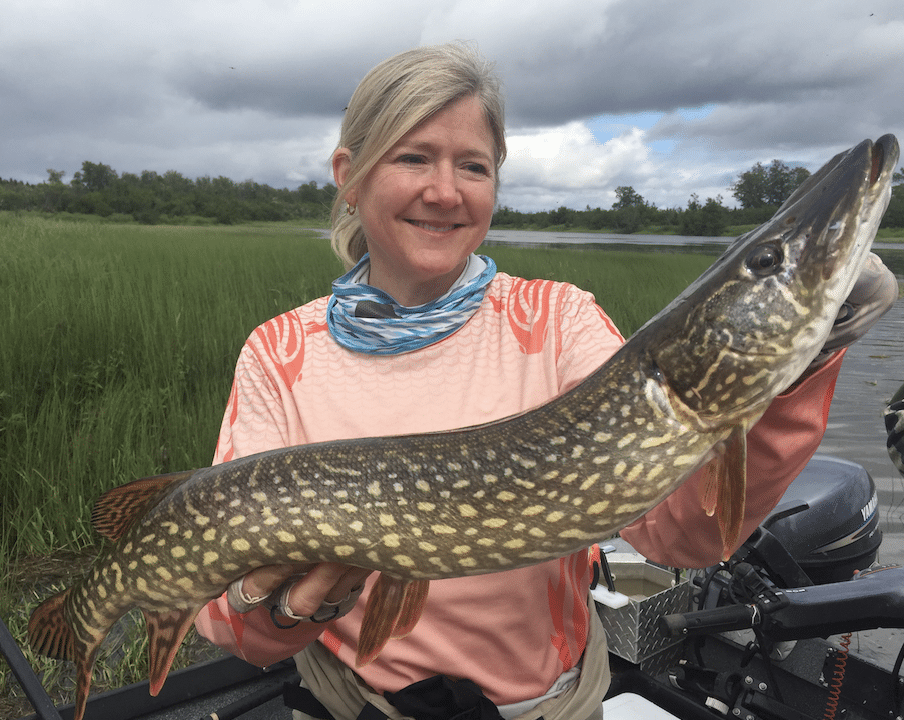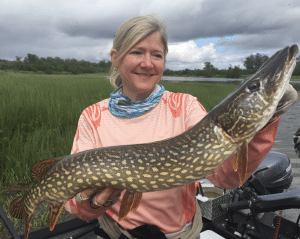 We shared the fire with a red fox, that was more curious than scared. One day a porcupine sauntered by, and moose were seen every day while on the river, as were bald eagles.
Multiple flush toilets and hot showers were a luxury to have, something you don't often get in remote, Alaskan camps. And the fact we got WiFi to check in on our sons back home, that set our minds at peace. In other words, it was the perfect destination for us to spend the week.
Not only did we come home with our limits of king salmon, but also a box of chum salmon, a few tasty Arctic grayling and some Northern Pike. Tiffany, being a cookbook author, is always eager to eat what she catches, and was overjoyed with the bounty from this trip.
While the bonus species made for great meals, and moments we'll never forget, it was the king salmon that brought us there, and what we caught every day. With the king salmon fishing struggling in some traditional streams around the state, rest assured the action is as good as it's been on the Nushagak.
"With this year's cold conditions in the region, and all the snow that stuck around, I think the fishing could be really good through mid-July," offered Weedman. By then, 24 hours of daylight and hard fighting king salmon will keep anglers wanting more. Sure, you might go home a little sleep deprived, but that's the price you pay when fishing the mighty Nushagak, where king salmon still rule.